NU AttoM LA-ICP-MS – Laser Ablation Inductively Coupled Plasma Mass Spectrometer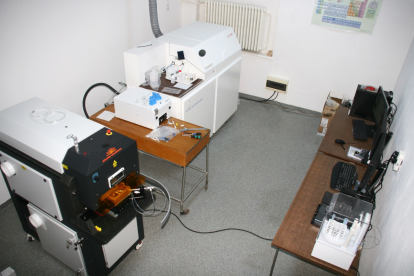 Our instrument is a double focusing inductively coupled plasma mass spectrometer that has been purpose designed to deliver rapid and precise isotope ratio and quantitative analysis of trace elements in solid and liquid matrices. The unique fast scanning techniques, coupled with a novel wide dynamic range detector system make the Attom a powerful analytical tool. Furthermore, the flexible high resolution slit system offers the best compromise between sensitivity and resolution for unambiguous determinations in complex matrices. An Analyte G2 laser ablation module with ArF excimer 193nm laser beam, attached to this instrument expand its analytical capabilities to solid samples that requires no chemical preparation, dramatically reducing analytical costs.
AttoM's key features are:
Double focusing HR-ICP-MS with analyzer and sample introduction system at ground potential
High ionization efficiency ICP source
Five programmable gas flow controllers
Easy access Peltier cooled spray chamber
Easy connection of alternative sample introduction systems
Enhanced sensitivity interface optimized for laser ablation and dry sample introduction
High performance ion extraction and transfer optics
Low Hysteresis magnet with fast magnetic field changes
'FastScan' scanning technology with multiple scan modes
Low noise discrete dynode electron multiplier
Unique patented detector attenuation system, no analogue mode required
Faraday detector for 12 orders of magnitude dynamic range
Powerful and easy to use software for instrument control and data processing
In this configuration, our LA-ICP-MS is capable to deliver:
Trace elements analysis in solutions at ppq level, except elements in gaseous forms
Determination of chemical composition of solid substances using laser ablation
U-Th-Pb based geochronology on zircon and accessory minerals with higher actinide content
For further details please contact Dr. Dan Nita or Dr. Constantin Balica.