CAMECA SX-Five Electron microprobe (Electron Probe Micro Analyzer)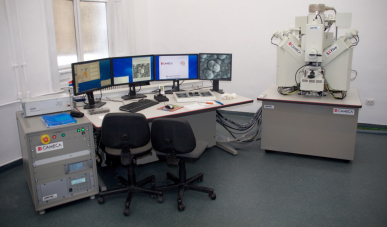 Our SX-Five machine has a W or LaB6 electron source and has automation capabilities for long-term unattended runs. It can perform micron scale quantitative analysis and deliver high quality minor and trace element analyses due to the low down to 100 ppm detection limit. Also, it can perform chemical mapping at high spatial resolution.
Machine key features are:
Maximum accelerating voltage: 30 kV
Four WDS spectrometers (two low pressure and two high pressure spectrometers)
One Bruker EDS detector
CL, SE and BSE detectors
High precision stage
Geology and geochronology standards
High resolution optical microscope for transmitted and reflected light
All these give the possibility to address a large spectrum of geological problems through:
Morphological analysis of solid substances (minerals and synthetic materials)
Elemental composition and element mapping in solid substances (atomic number higher than7)
SEM, BSE, and CL imaging
Chemical dating geochronology on monazite or other U-Th-Pb containing minerals
Sample preparation with carbon coating (Cressington 108 Carbon/A)
For any other details please contact Dr. Sergiu Dragusanu or Dr. Constantin Balica.